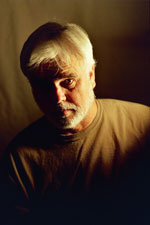 If it weren't for looking just like my father, I might suspect a mix up at the hospital when I was born. There is little else that I resemble in the family tree. My father was a heavy equipment owner/operator, building highways, dams, housing subdivisions, and land clearing on ranches all over Southern California. Although born in New Harmony, Indiana on January 14, 1950, I feel like a native Californian. My mother, father, older sister and I moved to California when I was one year old. We stayed with my grandfather, "Pop" Friedly who was the foreman at the Bishop Ranch in Goleta. We eventually settled in Santa Barbara after several moves chasing construction jobs.
I discovered the joy of drawing at the age of four when I was able to copy images I saw with an uncanny likeness. When I was nine I found an oil painting set discarded by my sister. I started painting and never stopped.
While working on a ranch in 1962, thirty miles north of Santa Barbara I met the artist Drake Seaman. For the next two years Drake tutored me. One thing he made clear from the beginning, "I will teach you how to see, it is up to you to figure out how to paint." From those early lessons with Drake, I have experimented with different techniques but have always kept in mind the importance light plays in portraying the essence of an object. Influences from Wayne Thiebaud and Nathan Oliveira can be seen in the way I use a multitude of colors to create complex designs.
In 1968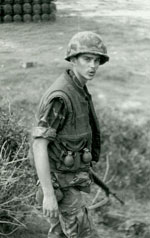 I joined the Marine Corp and landed in Vietnam as a rifleman. The terror of combat and the lingering memories transformed my childhood interest into a psychological sounding board. Things I didn't want to talk about poured out onto canvas. Many of these post Vietnam paintings won awards in juried shows. I discovered that viewers saw their own personal baggage in my imagery. It was an interesting twist to realize my work had a life of its own.
Little by little I started seeing the same drama in landscapes with windswept trees, long shadows, isolated fields, and quite often a road or path. Changing the format but staying within the boundaries of subject has garnered the same attention with a lot less shock. Total abstraction may have been able to do the same thing, but I enjoy creating the illusion of reality with a clear subject and focal point. Although I have painted the same scene multiple times, I have never formulized my art and each work is painted with a fresh approach.
In July 2002 my wife Lori and I bought a farmstead in Sully County, South Dakota. Lori is also a painter and a potter. Traveling is a favorite pastime where finding locations for potential paintings is a big part of the trip. South Dakota has brought ways to divide space for new innovative compositions. I try to evoke the feeling of being in the scene where the affects of weather, temperature, and time of day are felt by the viewer.
During the last thirty years I have shown work in California and most recently in South Dakota. I have participated in many invitational exhibits, one-man shows, juried shows, and received numerous awards. Many of my paintings are part of private and corporate collections.